New Product Release
---
February 9, 2021 – Tempe, Arizona: Galtronics USA, Inc., a wholly owned subsidiary of Baylin Technologies (TSX:BYL) is pleased to introduce a new series of Next Generation wideband iDAS ceiling mount omnidirectional antennas for new 5G in-building deployments, as well as legacy 4G and 3G wireless systems. 
The new Galtronics HyperFlat™ GI0801-07361 SISO (1-port)  and GI1202-007362 MIMO (2-port) high performance 360° omnidirectional DAS antennas cover all major global wireless bands within 617-4200 MHz, including 617-960MHz, 1695-2690MHz and 3300-4200MHz sub-bands inclusive of all existing cellular bands as well as new emerging 5G spectrum.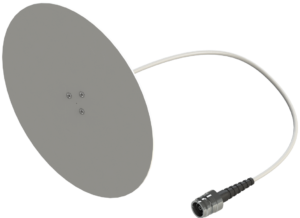 At only 3.6 millimeters (0.143") thick, the new Galtronics HyperFlat™ models provide superior gain in a very small and thin physical package and are intended for indoor ceiling mounted DAS systems.  Each model is available without, or with, an optional rear reflector, that reduces rear RF signal energy, and improves gain below the ceiling for improved coverage.
The GI0801-07361 SISO and GI1202-007362 MIMO are both specified and 100% factory tested with market leading return loss of 10 dB minimum in 600 MHz band and 12 dB minimum in all other bands except 746-787 MHz, 824-894 MHz, 1710-1780 MHz, 1850-1990 MHz, 2110-2200 MHz and 3550-3980 MHz where 14dB minimum return loss is specified.  Passive Intermodulation (PIM) is also market leading at -153dBc maximum in 617-960MHz & 1695-2690 MHz bands, and -145 dBc maximum 3300-4200 MHz.
These new HyperFlat™ models are available in three colors: white, gray and black, which is another industry leading concealment feature.  An optional hard ceiling mount accessory, MK-07515, is also available.
The new HyperFlat™ antennas are available now, with lead time of stock to 8 weeks.  For further information, contact customersupport@galtronics.com.